Along with Christmas bells and noisy malls, I can hear the sound of brushstrokes and busy children. Over all that, I hear the constant stream of creative buzz going through my head. I have several projects in the works right now. Here is the latest.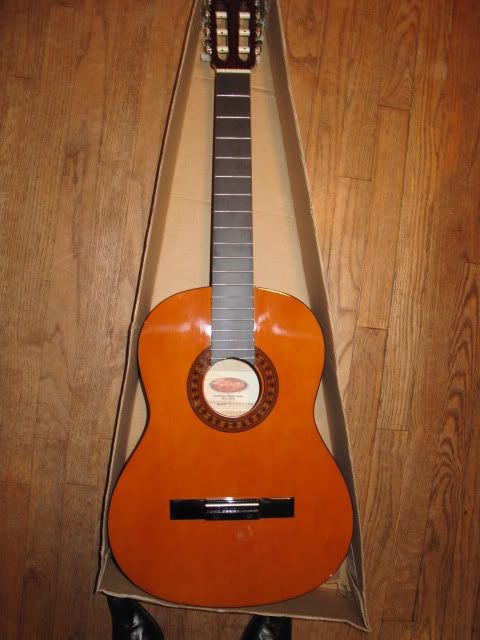 I know you are thinking, what is with the picture of a guitar? Well, I am honored and thrilled to be asked with 2 other OKC artists to paint a western theme guitar for an exhibit at the
National Cowboy & Western Heritage Museum
. The exhibit is titled:
The Guitar: Art, Artists and Artisans. It runs
Feb 12, 2010 - May 09, 2010. It is going to be outstanding and 3 lucky people will be the proud owners of the local artisan guitars at the end of the exhibit. During the run of the exhibit children will be able to play the guitars and have their picture taken. I hope you will bring your children to take a look! I will be taking mine!

The guitar painting process should be interesting. I am a bit nervous. I don't want to mess it up! :) I am going to sand the guitar and begin painting right away. I will be sure to take photos of the progress!

If you haven't seen the Museum's Winter and Spring Class Schedule, you should take a look! Classes are filling quickly even though I think this is the most offerings they have had since I have been there. It's a big issue! If you have local little ones I hope to see you in the toddler and pre-k classes.

I am also happy to say I will be working with the Metropolitan Library System this summer doing a summer teen art program. We are going to do artist trading cards and I will let you know more when the schedule comes out.

Busy, busy! I have several new projects for children that I will post soon! Have a Creative Day!