Last night I attended a wonderful event for Teaching Artists at the Arts Council. Oklahoma City has so much offered to artists right now. It was part one of a four part series by the
Arts Council of Oklahoma City
and
City Arts Center
. Last night I gathered with Art Education and Program Directors, Educators, Artists and more. There was some super creative energy flowing through as we listened to 3 speakers talk about
Curriculum
Planning.
I learned quite a bit, but more importantly I networked. I sat next to friends, one an artist-he talked about getting himself psyched up for this year, getting things done and being on the verge of an explosion. It's how I feel. This is my year. I have had so many wonderful opportunities offered to me this past year I am only building on it this year.
I mentioned sort of cryptically a while ago that I am working on something. I am not quite ready to purge the specifics, but I am committing myself to my artwork and more as I continue my search for studio space/small building in OKC. I am promising myself to paint more, volunteer more, share art with more children, network more and push myself further than I have gone in the past. I am happy I have the support of my family and of course my friends. One friend has really made me believe in myself-even if she doesn't know it-I owe a lot of my break out attitude to her. You know who you are. :)
Okay, other excitement is
Jason Peters
at the
Oklahoma City Museum of Art
. I CANNOT WAIT to attend the members preview and lecture on the 27th. His work is really exciting. I don't believe anything quite like this has ever been in OKC. I took this pic the other day after one of my classes, he did a small installation outside the Museum Gift Shop. This picture doesn't do it justice. It's actually lit from the inside. Way different. Way cool.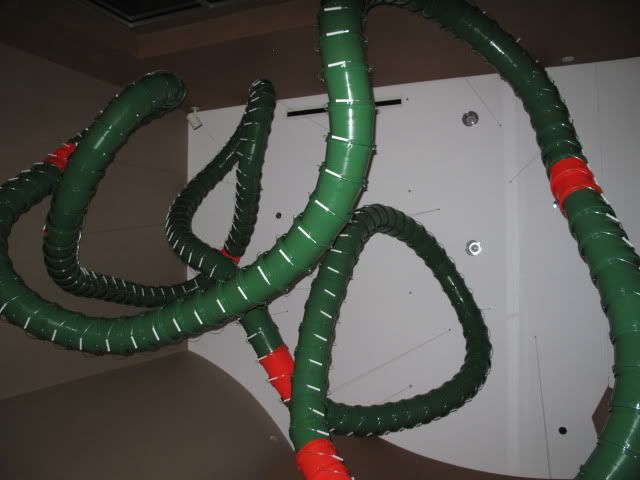 It's hard to tell, those are buckets-suspended from the ceiling. They wrap and twist like a serpent. Love it. He has been working for a few weeks or so with OU students on filling our exhibition space with more extraordinary works.
I am wrapping up my painted acoustic guitar for the National Cowboy and Western Heritage Museum and it's pretty darn cool if I do say so myself! Thursday after my class at the Museum I am headed over to OVAC office to help with some mailings. As part of my networking 2010 pledge I am joining two other arts related Organizations this week, The
Paseo Arts Association
and
IAO
(actually trying to get 2 pieces finished for Money talks, Art Walks in Feb.)
I will post fun pictures from my snowman class after Thurday! I am really looking forward to it. As much as I am dedicating myself to my work, I am dedicating myself to children and the arts as well.
Have a Creative Day!