In a fun class for children ages 15-36 months I prepared a fun fabric collage project. This class went hand in hand with the
OKCMOA's
(now gone) exhibit, Sketch to Screen: The Art of Hollywood Costume Design. The exhibit featured many famous costumes that were worn in some of your favorite movies. Who doesn't love costumes?
First we talked about fabric. What is fabric? "Your shirt is blue fabric, your dress is pink fabric" "What color of fabric am I wearing?" Then we talked about costumes. "Do you ever play dress up? What is your favorite costume? We read a Halloween book, Spot's Halloween-which might seem odd in August, but it's about costumes and even has Spot and his friends in costumes that are in the exhibit...Superman, Cowboy, perfect. These are some of the things we leave the classroom and search through the exhibit for.
On a table in assembly line fashion I set our a variety of fabrics and ribbons in a rainbow of colors. (I also included scissors as an option for parents to use if they pleased.) I tried to incorporate a variety of textures as well. Each workstation had an 9x12 piece of interfacing (you could use cardboard, poster board or whatever!), tacky glue and glue stick.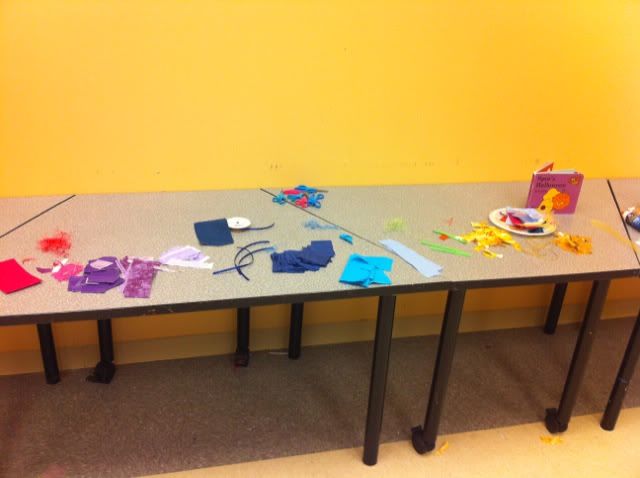 The children went through the line and picked out the pieces they wanted to use and placed them down. It was easiest to have adult squeeze glue all over interfacing and have child place fabric pieces on top.
You will need:
-Interfacing or cardboard
-fabrics (precut to small shapes)
-ribbons
-glue
-scissors
So much fun! Here are some of our finished fabric collages!