The
OKCMOA has two exciting exhibits
that opened this past week. One being, La Serenissima: Eighteenth-century Venetian Art from North American Collections and the other is Jonathan Hils: Intersection
.
In this class for ages 15-36 months we took at look at La Serenissima. We focused on the maritime aspect of the exhibit finding ships and sailboats. I gathered the kids in a small circle and we used our arms as oars to sing Row, Row, Row Your Boat. They really liked that. In the classroom we read the book, Ship Shapes by Stella Blackstone. This is a really cute book!
To get started on our project each child had two pieces of white paper and two black ships. (Have older kids draw and cut their own boats!) I handed out paint palettes with warm and cool paint colors. I decided for the children to paint the sky and water separately because I didn't want them mixing up the colors.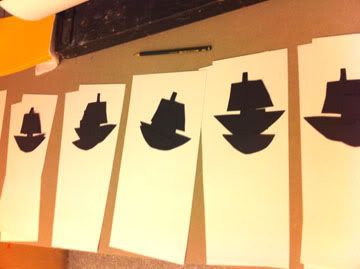 First they painted the warm sky.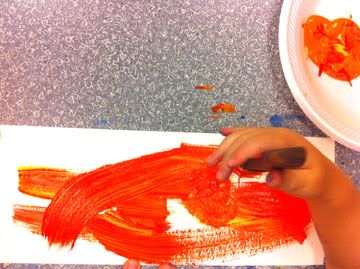 then cool colors for water
The kids used a glue stick to apply glue all over a piece of 14x11 black paper and parents helped place the water and sky paper together leaving a small 1/2 inch border to act as a mat.
Finally they glued their ships on and we set sail! Here are some of their works. So much fun!
You will need:
-14x11 black paper or posterboard
-2 pieces of watercolor paper 10x5
-warm pain colors
-cool paint colors
-pre cut boats for small children. For older kids have them draw and cut their own boats!
-paintbrushes