Drop in Art at the OKCMOA yesterday was so much fun! I had really wonderful group of creative children and adults that came in to draw, color and paint their creations with me.
We drew inspiration from the view painters in the new exhibition, La Serenissima: Eighteenth-century Venetian Art from North American Collections.
I made a few notes on the board to get started.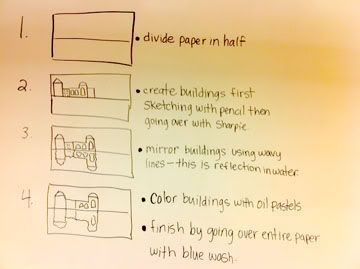 This first step can be done with pencil or jump right into it with a Sharpie marker. If you use pencil you can erase but you will need to allow more time because the pencil lines will need to be gone over with Sharpie anyway.
Begin by drawing a line across your paper. You draw your buildings as you want above the line. Below the line you mirror the buildings using a wavy line to represent reflecting in the water. If you used pencil, you need to now go over your pencil lines with Sharpie marker before going to the next step.
Now use oil pastels to fill in your drawing. For the reflection buildings try to color lightly so the paper will accept more of the watercolor wash.
Now you are ready for the final step! Create water and sky by using blue watercolor to wash over your drawing. The oil pastel resists the watercolor.
These turned out great! Here are some of the works!
You will need:
-watercolor paper
-pencils
-rulers
-Sharpie or other permanent marker
-oil pastels
-blue watercolor
-water and brushes