What a weekend! If you are local, chances are I saw you at the
OKCMOA
's super sized
Family Day
! It felt like the entire city was there. It was a huge crowd of all ages that enjoyed the many activities revolving around the Jason Peters exhibit.
Be sure to save the date for the next family day. It is Sat. May 22 and it will revolve around the next exhibit, Sketch to Screen: The Art of Hollywood Costume Design.
Amid the facepainting, scavenger hunts, story times and dance, there were 3 art activities featuring three different artists. I made hanging sculptures. (I'd say the average age of my little artists was age 4, and as young as 2.) We folded, bended, hole punched and cut a variety of papers and attached them to a strip of tagboard that we made into a circle. When we were finished, we punched 2 holes at the top and threaded some yard to hang these beautiful moving hanging sculptures. They turned out great!
Some of these kids really got creative. The little ones liked using the hole punch-that is a great fine motor skill for your little ones to build hand/muscle coordination!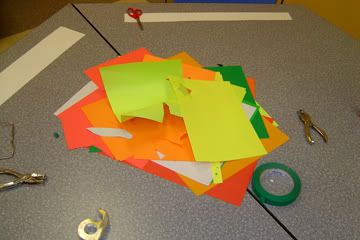 While a glue stick is good for adding small things to the top of your sculpture, tape is instant hold and will hold the heavier items better. Thinking about Peters: Focus on using all scraps! You cut it, punch it, you use it! The punched areas also allow light to come through which is a fun feature.
You will need:
-strip of tagboard/posterboard for the top
-Variety of papers
-scissors
-hole punch
-yarn
-tape
-glue stick
Here are a few examples!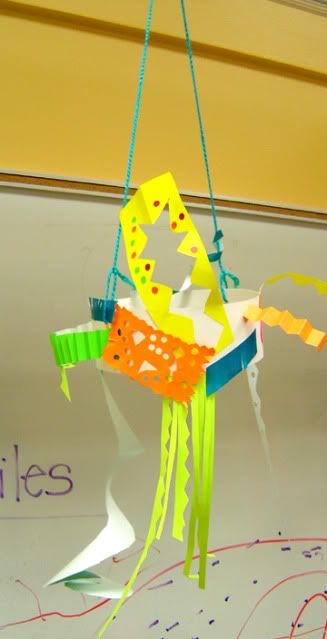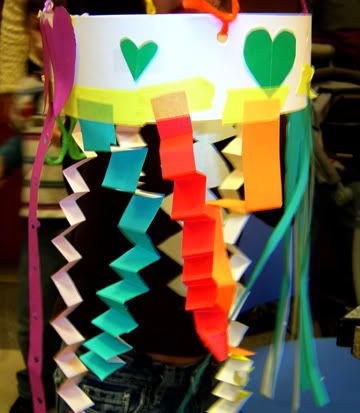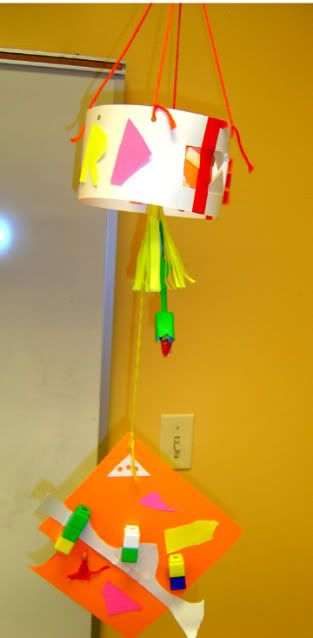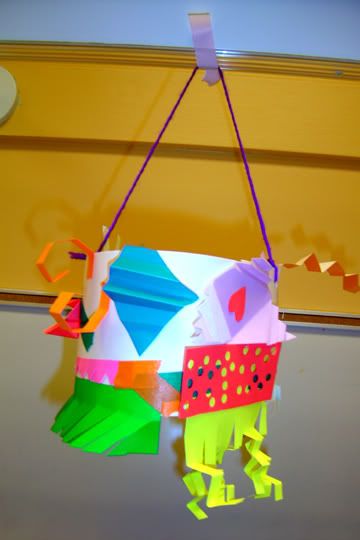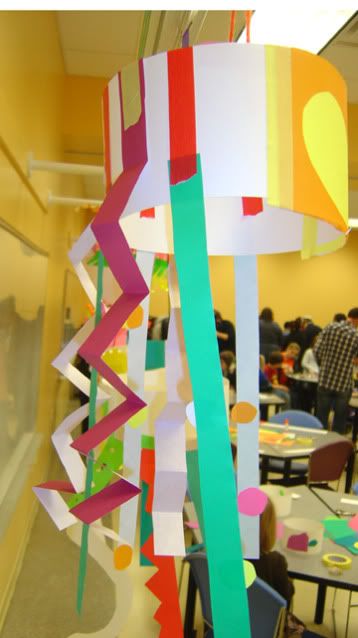 This last one is not hanging, but was a really interesting. She told me it was an homage to the artist, Jason Peters. They added pieces from the Museum handouts they got-including a Peters portrait, attached their exhibit tickets...very fun. Love to see people expand on a basic idea! This is why I do what I do. I love to watch creative minds at work!