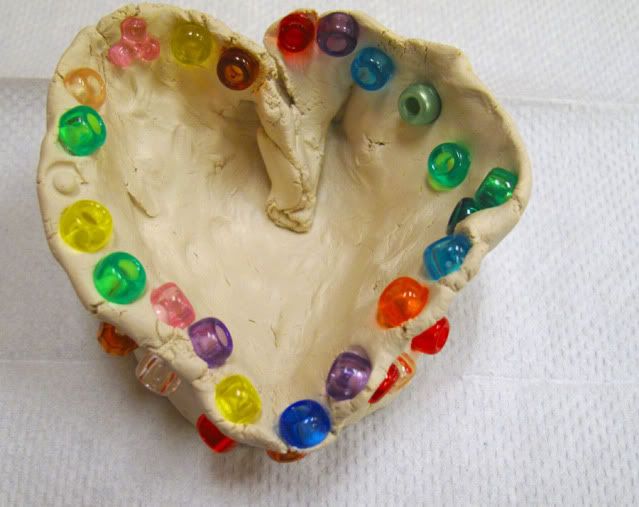 Super day for Drop-in-Art at the OKCMOA yesterday. I had about 60 people come through. That is a good number. I had just enough clay and will do a project like this again as the parents and children really enjoyed it. Drop in art is from 1-4pm at the Museum every Saturday. I see all age ranges so I try to do things that can be done by everyone. I also have to do something that can be completed quickly and ready to take home. We used Crayola Air Dry Clay to create a basic vessel using the pinch pot method.
I had portions under plastic ready for the kids as they came through the door. I had them each work their clay by squeezing it in their hands first. Then I had them make a "crab claw" with their hand. I told them to stick their thumbs in the middle and use their fingers to pinch around the clay ball, forming a bowl shape that could be further manipulated into whatever vessel shape they wanted. I saw a lot of hearts, so I think these will make a great Valentine Present!
The problem with this short time frame is decorating the clay. It can't be painted or anything yet, which I would do if it was a 2 part session. So, I thought it would be fun to use beads, buttons, and other things to decorate our bowls. The kids loved picking out their pieces from an assembly line of items I had out on a table. Little fingers picking up little objects is great for building hand strength and using fine motor. Enjoy!
You will need:
-Air Dry Clay
-Pony Beads, buttons, shape sequins...
Here are some of their creations!