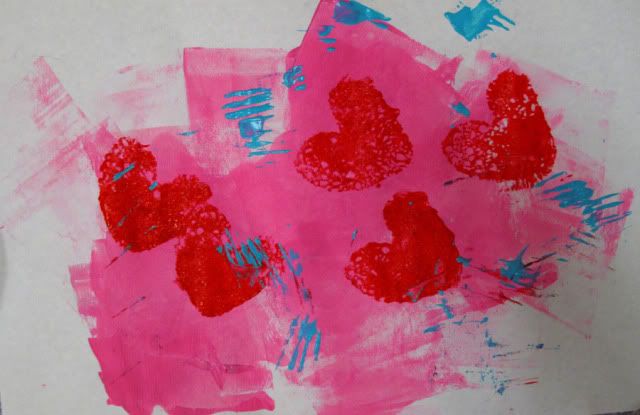 Happy Valentines Day!
I hope you all are enjoying this day as much as I am. Yesterday was a busy day at the
OKCMOA
. I started my morning with a great group of eager toddlers. We painted with "found objects."
When coming up with project ideas for my classes we are encouraged to focus on relating our project ideas to something from the permanent collection or our visiting exhibit. I have mentioned that Jason Peters is our awesome exhibit right now. I have had so much fun leading the kids through this and the parents love it too. It's fresh, exciting and I love to watch the faces of our visitors. They enter and mouths drop! Peters uses found objects for his sculptures. For this class we used found objects to paint with.
Sometimes we listen to music. I have a kid playlist that gets us moving, we start with
The Imagination Movers, Paint the Day Away
. I find all my music on iTunes. We also groove to The Laurie Berkner Band, The Wiggles, Raffi and more.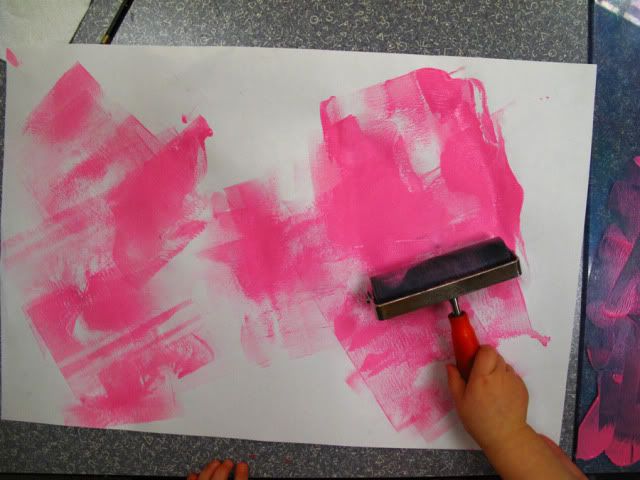 First my toddlers used a brayer to roll on pink paint. Most of the kids have never used a brayer. They loved to roll paint! We let this first step dry and visited the exhibit. When we returned to the classroom we used a heart sponge to stamp red hearts. (I cut heart shapes from kitchen sponges.) I have learned that sometimes it is easiest to give the kids one color at a time and with my small classes this works great.
Finally we used forks. I tell them this is to stamp, not to eat, and I go around to each child and dip the fork and show them we "stamp, stamp, stamp." They love repetition and making a word connection with motion. (like brush, brush, brush...dot, dot, dot, you get the idea) We used aqua paint for that and the fork creates neat little lines. We had so much fun!
You will need:
-drawing paper
-brayer
-3 paint colors
-sponge cut to shape
-fork
Here are some of our works!