I had a wonderful day of making art with children of all ages at the
OKCMOA's Drop-in Art Program
this past weekend. I am honored to be on board for another season of teaching art to children. This is a great little project to learn about collage, printmaking and texture. This technique is actually called collagraph, or printmaking from collage.
We used a piece of black poster board as our printing plate. The kids went through to pick and choose from a variety of different items: yarn, corrugated cardboard, foam stickers, fabric, craft sticks, etc.
Using a glue stick, glue your collage items down. We used glue sticks because they dry fast and we were going right into printing. If you use Elmer's or similar glue, the items will likely slide out of place before having a few hours to dry.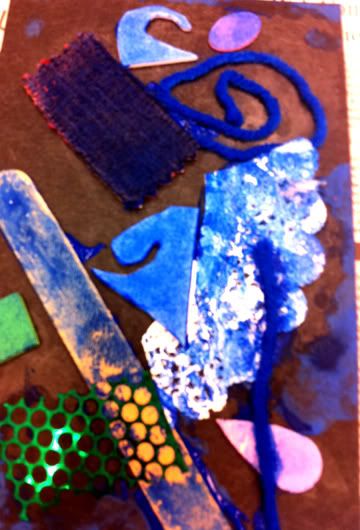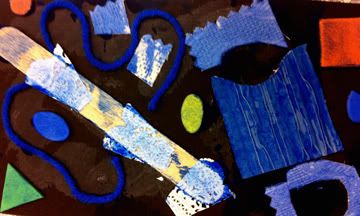 When the collage is finished I had the kids move to a printing area. I had plexi, paint and brayers set up on newspaper to help keep the mess under control.
We just used washable Crayola tempera paint. Blue is the color we used, but you could use whatever! Cover your entire collage with a nice even layer of paint. It might take a few times.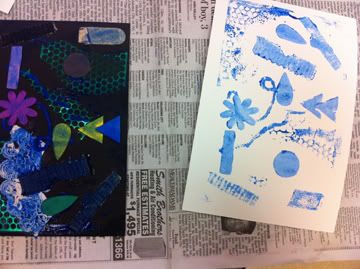 We printed on white paper that is a little larger than the printing plate. (The size I prepared was: 9x6 cut white paper to print on and 8x5 black posterboard for printing plate.) Holding plate upside down, center over paper and press down. Press firmly all over and gently peel apart. This is the first print. You can re-paint and make as many editions of this print as you like! We had so much fun, it really kept the kids busy.
You will need:
-Poster board
-white paper
-tempera paint
-foam roller
-collage items
-glue sticks
-scissors
-plexi or something to roll paint out on