This is a class I did some time ago but logged it away for another day. I remember doing this in school when I was younger. Not a new idea, but so fun and the kids love seeing themselves life size! Do you have a roll of butcher paper? This is the perfect project for you!
This class was for kids ages 3-5 years old. After we read our story and visited the gallery we got busy. I had sheets of paper on the floor for everyone. Each child laid down on the paper and was traced by an adult with a marker. If you are doing this at home, have siblings trace each other!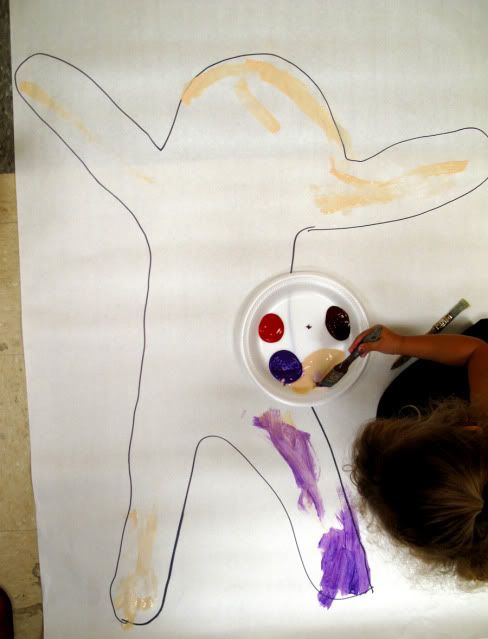 The younger ones focused more on selecting paint colors that portrayed how they felt while older children painted in their outlines to the likeness of what they were wearing. A great book discussing color and feelings is
My Many Colored Days by Dr. Seuss.
One step further: My classes are one-time and only an hour long but if I had more time I would have put another sheet of paper on the back, cut out both, stuffed with paper and stapled them closed around the edges.
You will need:
-Butcher paper
-Black marker
-Tempera paints or markers to fill