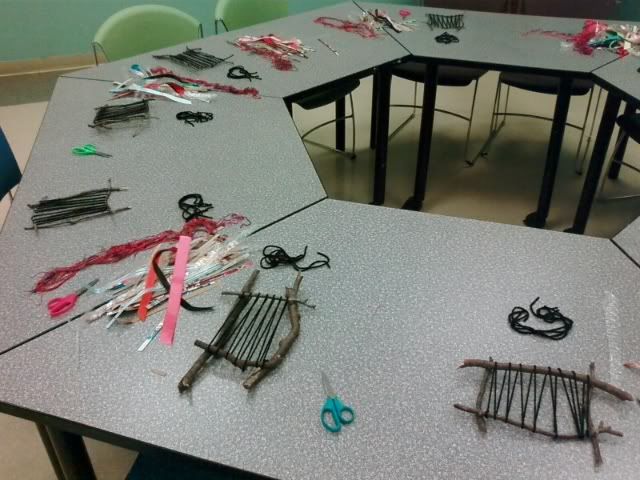 "How do you come up with your ideas?"
I get this question from parents, friends and even kids. I think A LOT. I think of ideas in the middle of the night, in the shower, in the car...and constantly re-think them. Sometimes I'll be inspired by something and try to think how
I
can do it. Sometimes I just get that "a-ha moment." Sometimes not all my ideas are "invented" by me, but I try to make them mine through how they are applied and taught. Like yesterday's project. I am not the first one to use sticks for looms, but I tried to come up with an original idea how to expand the idea.
Green Weaving was brought on by thinking about a class for St. Patrick's Day. Green. I had wanted to do a weaving project for a while and thinking green, I thought..."GREEN" as in RECYCLE! I do a lot of brainstorming in all of my processes.
I began saving cardboard boxes from packaged food items, odd bit of ribbons and bows off valentine chocolates, bubble wrap, plastic from tissue boxes...you get the idea. Then, I cut those items into strips. We used those things to weave through our loom.
I made the looms from branches in our backyard. Our kitchen was full of branches! I broke them into pieces and hot glued them together. Then I wrapped yarn around to use as the weft. They turned out so COOL! I made 40 looms hoping that would be enough and it was-barely!
Had quite a few kids and adults yesterday and they had a great time! A few parents even joined in the fun.
Everything is always set up in advance. I ended up putting our more items, I wish I had taken another pic. Oh well. You get the idea. Students each had a loom, weavable items and scissors. I encouraged them to walk around and get other items if there was something from another pile they wanted to use.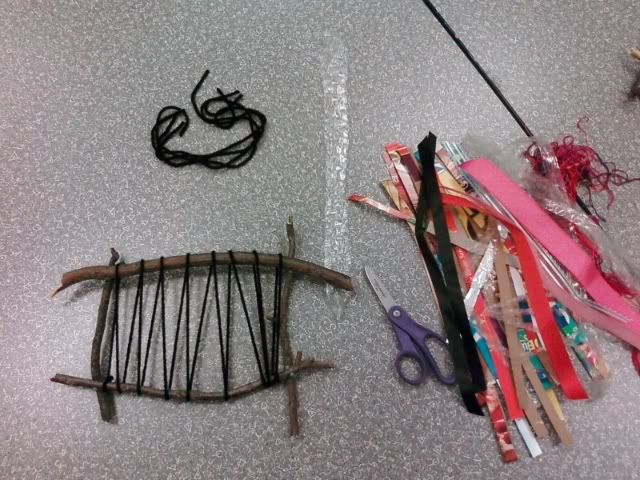 I took a few pictures of work alone with permission. These are from a 4 year old and a 6 year old. So much fun!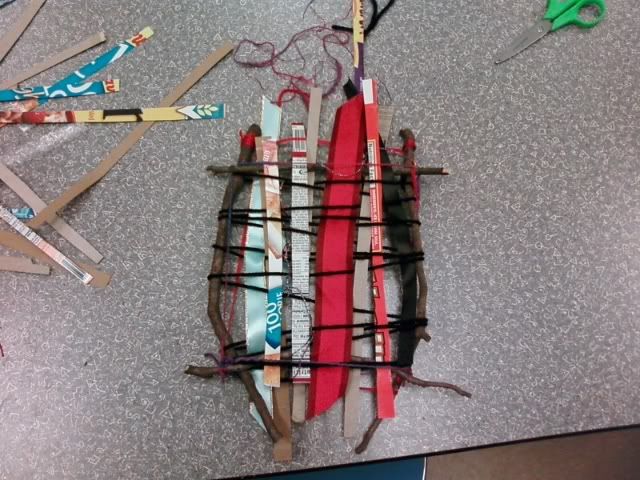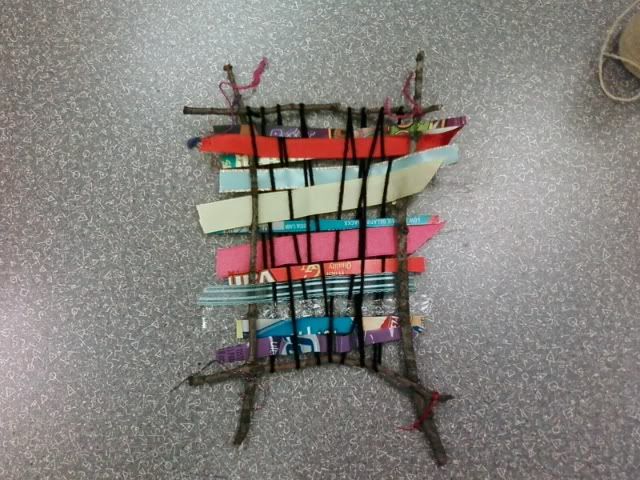 I had a few looms leftover and am excited to weave with the boys this week!