For my son's school auction I lead the 1st grade art project I titled "It takes a Village." Thinking of how true that statement is for the auction alone. All the parents, teachers, businesses that donated items and more to put this fund-raising shindig together. My small part was a few man hours to complete two class projects that happily sold for quite a bit of money! (Both projects went for over $2,000 dollars!) This is money the school will use for new computers and classroom upgrades. So wonderful.
I wish I had taken better pictures of these pieces. They really did turn out so beautiful.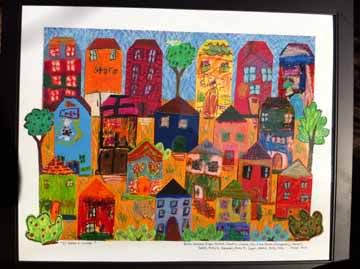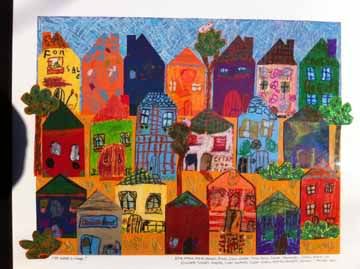 You can do this on your own!
You will need:
-colored card stock
-oil pastels
-scissors
-acid free glue dots
-framing optional
This is a collaboration piece. I pre-cut different shaped buildings from card stock. Children were instructed to use oil pastels to decorate their building as a home, store, apartment, etc. They were told to think about details like doors, windows, landscaping, shingles, etc.
I collected all the buildings and created a childlike background. The background was done on two pieces of pastel paper and colored on top of with oil pastel. I cut and colored trees and shrubs. All of the pieces were put down with acid free glue dots. The finished piece was 30x24 matted and framed. I think this would be cute on a small scale as well!